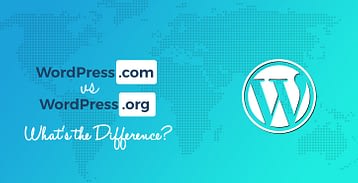 WordPress.com vs WordPress.org – What's the Difference?
The whole WordPress.com vs WordPress.org thing is really confusing. For everyone.
First off, and it needs to be said right away, WordPress.org and WordPress.com are two entirely different websites / organizations / web solutions.
In other words, one is going to give you an entirely different *thing* than the other.
I know this is weird. There are not many cases in which a brand's ".com" domain is totally separate from its ".org" domain. We're just used to seeing the same thing under every domain extension that a brand might have.
Well, it's just different for WordPress.
But before we discuss the differences of WordPress.com vs WordPress.org, let's get the most important piece of the puzzle out the way: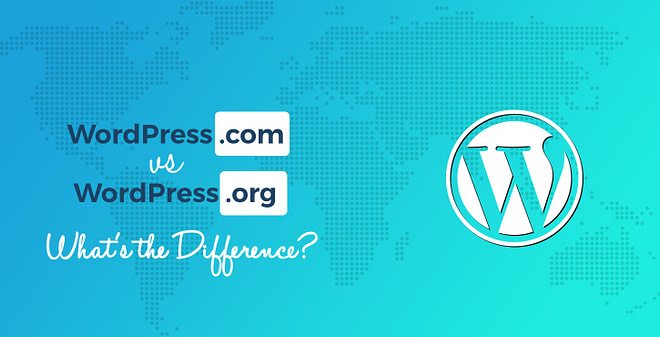 #WordPress.org vs #WordPress.com – what's the difference? 🤔CLICK TO TWEET
If you just want to start a blog or build a website then you can skip this article and head over to these guides:
What is WordPress anyway?
Setting the .org and .com mystery aside, let's talk pure WordPress for a second.
WordPress is the most popular website engine of them all. It's software that you can use as the operating system of your website.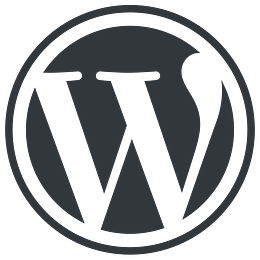 In other words, WordPress is to your website what Microsoft Windows (or Mac OS) is to your computer.
WordPress is used on more than 32% of all websites, and is capable of handling any type or size of website. It packs a ton of features and can be extended endlessly via additional themes (custom designs) and plugins (extra features). It really is the perfect solution.
Okay okay, but what are the most significant differences between WordPress.com vs WordPress.org?Go to top
WordPress.com vs WordPress.org: the core differences
Here's an easy way to memorize what the difference is … just look at the domain extension of the WordPress you're interested in:
👐 WordPress.org – ".org" stands for "organization"
💰 WordPress.com – ".com" stands for "commercial"
With that in mind, the key difference between WordPress.com and WordPress.org is who's actually hosting your website. With WordPress.org, you host your own site (we recommend this). WordPress.com, on the other hand, takes care of all of this for you (easier to start, less freedom).
WordPress.com vs WordPress.org in summary: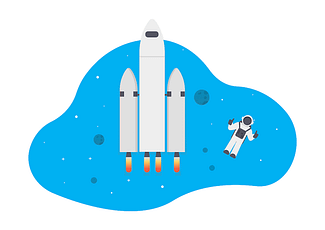 WordPress.com
complete all-in-one website building solution / no hosting needed / domain optional / free and paid plans available / less technical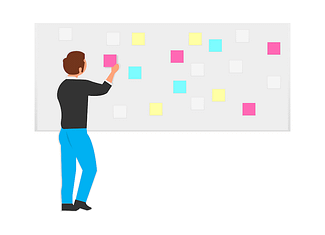 WordPress.org
website software / open source / free / DIY solution / you need hosting and domain name before you can launch your site / takes a while to go through the steps Go to top
💰 Which is cheaper?
The topic of pricing with WordPress.com vs WordPress.org is a tricky one. There are a lot of options available with both versions of WordPress, but they're also very different under the hood. Here's the process involved when building a website or blog with either platform, plus what it costs:
WordPress.com
Go to WordPress.com and sign up for an account
Provide all your access details for the new account
Set a name of your site, pick a design
Pick the plan that's best suited to your needs. Those go from $0 to $25 a month – more on these below
Register a new domain for the site if you've chosen a paid plan in the previous step
Finalize the setup and configure your website
WordPress.org
Start by picking a third-party web host for your future website. The prices go from $3 to $30 a month – more on these below
Register with your web host of choice
During the registration process, select a checkbox to indicate that you want WordPress installed on your setup (read: you'll get WordPress installed automatically by the host)
Finalize the hosting purchase and log in to your new WordPress dashboard
Configure your site, pick a design
As you can see, the website building process is different depending who you choose – WordPress.com or WordPress.org.
While WordPress.com does give you an entirely free plan, you are limited in what you can actually do with that site:
You can only use WordPress.com's subdomain – can't hook up a custom domain name
There will be WordPress.com's own advertising on your site – you don't earn anything from those ads
You get only 3GB of website storage
You can't use the website for any commercial purpose
You get a limited choice of themes and can't extend the website via plugins
If you want to get a little more features, you can get one of the paid plans. Here's how things play out:See WordPress.com pricing
Note. Keep in mind that while the tables above do say "custom domain name", this doesn't mean that you actually get it bundled in. You still need to pay for that separately.
When you add things together, running a decent commercial website on WordPress.com will cost you around $111 annually ($8 / month for WordPress.com itself + $15 / year for the domain name).
In comparison, with WordPress.org, you do need to invest money up front, but the investment is usually smaller overall, especially for new sites.
In order to launch a website with WordPress, you do need to get a hold of a web server and a domain name (which you need to take care of completely separately from what you get from WordPress.org).
As it turns out, you can get a high-quality hosting package for a WordPress site at around $35 / year. When we factor in the cost of the domain, that's $50 annually in total to run a website based on WordPress.org. Roughly half what you'd pay with WordPress.com.
The only tough part is how to choose a web host that's quality. We have a whole comparison of the top options right here, but if you don't have the time to go through all that, you can just go to Bluehost and get a hosting setup from them. It's a respected company with tons of options for WordPress. Here's what's good about Bluehost's offering:
To an extent, Bluehost acts very similarly to WordPress.com here, but it's just cheaper. Overall, you also get to use unlimited themes on your site and install whatever plugins you wish. Basically, you have the freedom to do whatever you want, improve anything, and customize all you need about your site. WordPress.com will still only give you limited access to customizations, even if you agree to pay premium.
While it might be early to jump into buying your hosting, when you're ready to do it, make sure you use the above link for Bluehost. It is an affiliate link (meaning that we'll get a small commission), however, it will also unlock a $2.95 vs $3.95 discounted price for you. You won't get this discount if you visit the Bluehost site in any other way than via the link above.Go to top
🔎 WordPress.com vs WordPress.org – a more in-depth take
Note: Would you rather watch a video on the main differences between WordPress.com and WordPress.org?Click here
| WordPress.com | WordPress.org |
| --- | --- |
| Offers free hosting, but limits your website space to 3GB on the free plan. | Doesn't come with free hosting. You'll have to look for a host yourself, and pay for it separately. |
| Gives you a free subdomain. Something like YOURSITE.wordpress.com. If you want a custom domain, you'll need to upgrade to a paid plan. | You need to get a custom domain on your own (additional costs apply). |
| You get basic security and backups handled for you. | There's some level of security from your web host, but for the most part, you need to secure your website yourself. Same goes for backups – those you need to enable via plugins as well. |
| Everything about the technical performance of your website is handled by the team behind WordPress.com. If something doesn't work at any point, you can't do anything but wait for the team to fix the issue. | You get to choose the plugins and the performance settings of your website. It requires some work, but you are in full control of what happens on your site. |
| Offers a limited number of themes for you to choose from. It comes with limited customization options as well. | Lets you take and install any theme you want, and also do all the customization you want. You can also create your own themes if you know your way around PHP coding. |
| Allows you to use third-party plugins only if you get the $25/mo plan. For the other plans, you only get a narrow range of pre-built features. You can't add extra features to your site that aren't already provided by the default WordPress.com environment. | WordPress.org offers you the freedom to install any free or premium plugin you want. This is vital if you want to customize your site to the point where it fits your needs hand-in-glove. |
| You can't have your own ads on your site. However, WordPress.com displays *their* ads on your site – that's the price you pay for having the platform for free. To remove those ads, that's at least $4/mo. | You can have as many ads and as many forms of monetization as you like (also, choose any ad service you want). The good news is that you keep 100% of your earnings. |
👍👎 The pros and cons of WordPress.org and WordPress.com
Instead of listing each individual set of pros and cons, I'm focusing just on the pros of one platform over the other. In other words, if you see something being a pro for one platform, it means that the other platform doesn't have it.
| WordPress.com PROS | WordPress.org PROS |
| --- | --- |
| It takes less time to set up a WordPress.com site than it takes to set up a WordPress.org site. | It gives you much more customization options than WordPress.com. |
| Can be used by newbies. Even if it's your first time launching a website, you will still be able to do everything yourself. | It's a free and open source platform. |
| Takes care of updating and backing up your site automatically, so you don't have to worry about anything. | You're in full control of your website. You can do whatever you want with it. |
| It's free for a simple and small site, and you get technical support. | You can use custom themes and custom plugins. |
🤔 How to decide between WordPress.com vs WordPress.org?
In most situations, WordPress.org is meant for those of us who are not afraid to get our hands dirty, and those who want to have full control of their sites. It's also the perfect platform for any type of business site and professional project.
WordPress.com, on the other hand, is great for personal blogs, and sites with no commercial intent.
Here's a side-by-side to help you decide:
lets you build a website quickly
offers a 100% free plan
doesn't give you full control of the site
is extra easy to use if you don't have much experience with websites
makes perfect sense for small personal projects/blogs
allows you to pick only from a limited number of themes (designs) and doesn't let you to create your own
has limited extension possibilities
gives you full control of your website
lets you use a custom design
doesn't limit the ways in which you can monetize the site (great for business websites)
is incredibly customizable
requires you to buy your own hosting and domain name
even though WordPress itself is free, actually launching a website to the public will cost you $35-50 annually – you can get started with Bluehost to get the cheaper option for the first year
📚 Further reading
So what's it going to be for you? WordPress.com or WordPress.org?#WordPress.org vs #WordPress.com – what's the difference? 🤔CLICK TO TWEET
…
Don't forget to join our crash course on speeding up your WordPress site. With some simple fixes, you can reduce your loading time by even 50-80%:
* This post contains affiliate links, which means that if you click on one of the product links and then purchase the product, we'll receive a small fee. No worries though, you'll still pay the standard amount so there's no cost on your part.