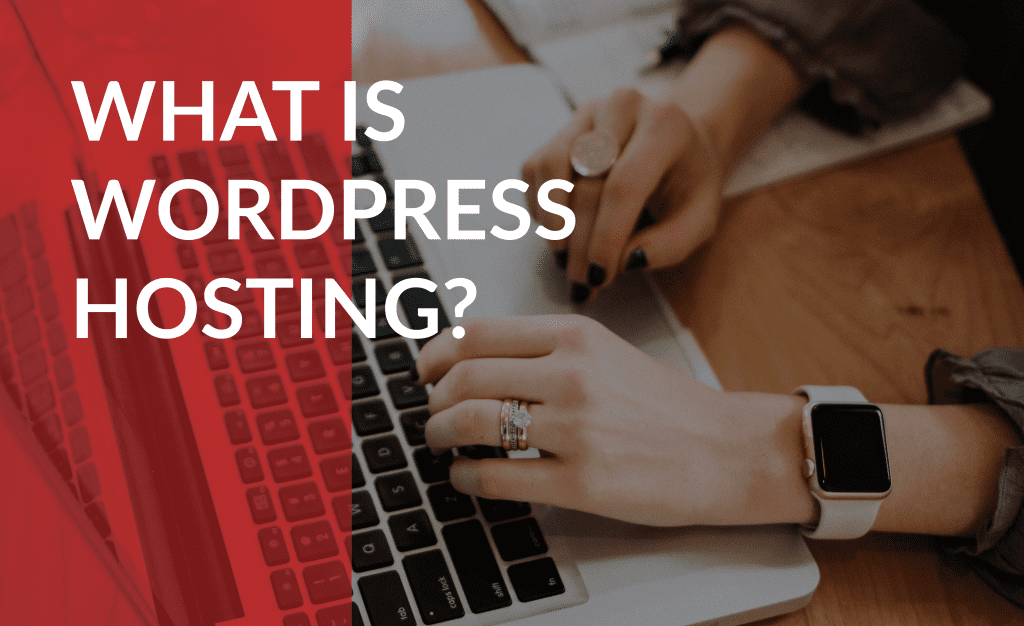 What is WordPress Hosting?
So you've already made the smart choice to go with WordPress for your website. Now, you're on to making the next important decision for your site: hosting. Among a barrage of terms like shared, dedicated, and VPN, you've come across this thing called WordPress hosting. So … what is WordPress hosting?
What is WordPress hosting? In short:
In the simplest sense, WordPress hosting is just hosting that has been optimized to better meet WordPress' performance and security needs. It also typically includes one-click WordPress installs to make it easy to get started with WordPress. And some WordPress hosts will even automatically update your WordPress software as needed.
There are two main types of WordPress hosting – shared WordPress hosting and managed WordPress hosting. I'll discuss each in more detail below.
TL;DR: The main differences explained in video
Do you need WordPress hosting to run WordPress?
No. WordPress' minimum requirements are fairly insignificant. All you need is a host with PHP version 5.2.4 or higher and MySQL 5.0.15 or higher to run WordPress. In plain English, what this means is that every host is technically capable of handling WordPress.
But that doesn't mean that all hosts are equal when it comes to running WordPress. I mean, technically eating Soylent Green every day for the rest of your life will provide you all the nutrition you need to live. But that doesn't mean it's the best recipe for a happy life!
So, if you want to go beyond just "hosting a WordPress site", a quality WordPress hosting can help you run WordPress better.
Looking into what is WordPress hosting, our sister-site, CodeInWP, ran a survey of WordPress site owners and found that those site owners who hosted with WordPress-optimized hosts reported better overall satisfaction with their host across a number of metrics.
What is shared WordPress hosting?
As I mentioned, you'll typically see two types of WordPress hosting in your search:
Shared WordPress hosting (often just shortened to "WordPress hosting")
Managed WordPress hosting
Shared WordPress hosting is almost always the cheaper of the two options.
With shared WordPress hosting, your site will "share" a server with other websites. Your server will still be performance-optimized for WordPress, you just won't have it all to yourself.
In addition to the performance tweaks, you'll also get access to some type of a one-click WordPress installer. Honestly, this isn't a huge draw because cPanel (available on most hosts) already includes a one-click WordPress installer. However, some shared WordPress hosts will go a step further and give you the option of pre-installing WordPress.
Finally, some WordPress hosts will offer to automatically upgrade your WordPress software. Sometimes they will even upgrade your plugins and themes too! Keeping your WordPress site updated is an essential security measure, making this feature actually quite important.
You may find some shared WordPress hosts which offer even more WordPress-specific features, but the above are pretty much the base standard.
Shared WordPress hosts typically offer steep discounts for your first billing cycle. After that, prices jump back to normal. For your first billing cycle, you can expect to pay as little as $3-4 per month. After your first cycle, you'll typically pay from $7-10. Remember – those are just starting prices – higher tier shared WordPress plans run more expensive.

What is managed WordPress hosting?
If shared WordPress hosting is a clean 3-star hotel, managed WordPress hosting is a 5-star resort with beachfront views.
In addition to everything offered by shared hosting, managed WordPress hosting typically offers:
Faster speeds. Managed WordPress hosting just plain offers better hardware specs, which means a speedier WordPress site.
Server-side caching. Caching is one of the biggest things you can do to speed up your WordPress site. Typically you need a plugin to handle it, but managed WordPress hosts give you better caching with zero work on your end.
Better security. You'll get WordPress-specific firewalls, as well as regular malware scans and intrusion detection. All that jargon means a significantly more secure WordPress site.
Staging sites. Many managed hosts offer staging sites which allow you to easily test changes to your site before you make them live.
So what's the catch? Managed WordPress hosting is more expensive. With a few exceptions like SiteGround and Flywheel, you'll generally need to pay in the range of $25+ per month for quality managed WordPress hosting.
Should you choose shared or managed WordPress hosting?
The standard refrain is that beginners should choose cheap shared WordPress hosting and high-traffic sites should choose managed WordPress hosting. I generally agree with that analysis, but I think it overlooks one fact:
Time is money.
If you're a beginner – it's easy to get overwhelmed trying to do things like configure caching and stay on top of updates. When you go with managed WordPress hosting, you don't have to worry about any of that.
Yes, you are paying more money. But that extra money means you have to spend less time managing the performance of your website. Would you pay an extra $15 per month to save 3 hours of banging your head against the wall trying to figure out exactly how best to tweak your caching plugin? I know I would.
So, if budget is your primary concern, by all means go with shared WordPress hosting as a beginner. Just remember that, for the cheaper price, you are missing out on the concierge services offered by managed WordPress hosts.
Recommended WordPress hosts
You've made it this far, you now know what is WordPress hosting, so how about some WordPress hosting recommendations?
Through a combination of individual reviews and our crowd-sourced WordPress hosting survey, I feel confident recommending these WordPress hosts:
SiteGround – Read our SiteGround review. SiteGround starts at $11.95 per month ($3.95 with promo price) and offers shared hosting with some managed features.
A2 Hosting – Read our A2 Hosting review. A2 hosting starts at $7.99 per month ($2.96 with promo price) and offers surprisingly fast speeds for a shared WordPress host.
Flywheel – Read our Flywheel Review. Flywheel starts at $13 per month and offers managed WordPress hosting.
Kinsta – Read our Kinsta Review. Kinsta starts at $30 per month and offers high-end managed WordPress hosting.
If you have any further questions about what is WordPress hosting, leave them in the comments and I'll do my best to help!