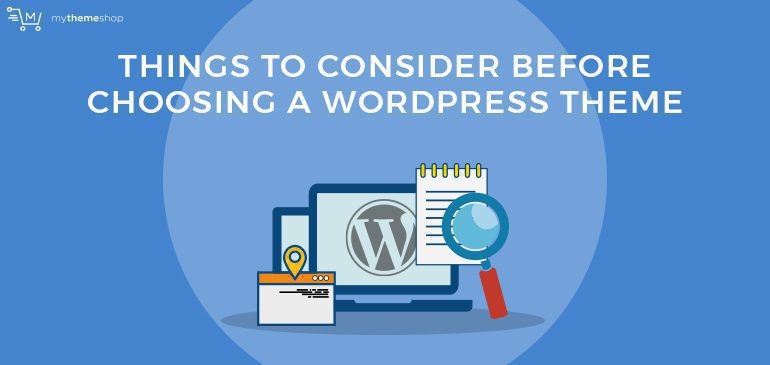 How to Choose a WordPress Theme? 4 Things to Pay Attention To
There is no shortage of WordPress themes out there, that's for sure. With each passing day, we get new free and premium WordPress themes that cater to various websites. Blogs, magazines, portfolios, video themes, and a lot more! In short, WordPress themes are plenty, and the number keeps rising. Now, the question arises: how to choose a WordPress theme, actually?
Are there any special factors or considerations that you should bear in mind? Something that you must always be aware of?
Of course, it does depend quite a lot on your needs. If you need a video theme, you won't pick a fashion theme, and so on. However, some key elements remain the same when you are wondering how to choose a WordPress theme. This article addresses them:
How to choose a WordPress theme
1. Know your requirements and budget
This is, of course, the first concern. You must be aware of your requirements and needs. Begin by figuring out the nature of the website you are building or running. Is it a video site? Is it a simple blog Are there going to be a lot of images?
Once done, you can shortlist the type of WordPress theme that best suits your needs. There are design-related concerns as well. For example, content-centric websites might be better off with a very minimal WordPress theme, whereas certain sites require some animations and other appearance related tweaks.
Furthermore, your budget is also important. Before you figure out how to choose a WordPress theme, you need to know whether or not you wish to spend money at all. You might find many people telling you that all free themes are bad, but don't buy into that advice. A good free theme adheres to coding standards and is regularly updated, albeit it might not be backed by premium quality support.
Be sure to do your research in this – here is a useful guide to help you figure out whether you need a free theme or a paid one.
2. Mind the code quality and standards
A poorly coded WordPress theme can have adverse effects on your website's performance. It can slow things down, clog your database with junk, and even expose it to hackers. As such, opt for a theme that adheres to the latest coding standards and safer practices.
That's easier said than done, isn't it? You cannot possibly open every single file that ships in the theme package and proof-read the code!
There are two shortcuts to this. First, consider selecting only those themes that come from reputed providers. Look for theme shops that have been around for a few years and have an established arsenal of premium themes. Similarly, select only those free themes that have had a few thousand downloads. This way you can avoid junk and poor code.
Secondly, rely on the Theme Check plugin. It scans your WordPress theme and offers feedback on the quality of the code.
Here's what it says for our old theme TheMotion:
3. Make sure there's support and updates
If the theme in question is a paid product or premium in nature, it should always be backed by premium quality support. Such support can be via forums, email, or online tickets. If you run into problems with a theme that you paid money for, the developers should be able to guide you. Plain and simple.
Free themes, however, are a different story. It is only fair that developers do not spend hours offering support for a free product. However, consider looking at the WordPress.org forums for the given theme, and see if the developer is quick to respond to questions and support requests.
Similarly, WordPress themes should be regularly updated. Over time, new security patches need to be applied, bugs need to be fixed, etc. A theme that is not updated regularly is a bad theme.
To check the update frequency, consider looking at the changelog of a theme. It usually gives you a good overview of how lively the development process for the theme is.
4. List the features you need
The list of features and functionality that a WordPress theme can or must offer is always debatable. Yes, it does depend on your needs. If you are not running a news site, you probably do not need that breaking news ticker in the homepage.
However, there are certain features that are always a must! For example, your WordPress theme should surely be responsive and mobile-friendly. It is 2016/2017, and the mobile is almost on par with the desktop. If your theme fails to be responsive, your website will suffer.
Another thing: basic customization capabilities (preferably through the WordPress Customizer). You do want to be able to adjust your homepage and color scheme, right?
Finally, think if what you need is a really small, niche theme, or if you're going to be better off with a bigger multipurpose theme. The former is a better solution for small business sites (lawyers, cafes, etc.), and the latter tend to work well for online-based businesses. Here's an in-depth guide on this.
In summary
Lastly, if you are still wondering how to choose a WordPress theme, a list of DON'Ts for your perusal:
Do not ask Google for "great wordpress themes". Or, at least be careful when doing so. The thing is that you never know which theme sources are trustworthy, and there's always a risk that you can get some malicious code along with the theme. It's always safer to go to either reputable theme stores or check what's available in the official WordPress directory.
If your theme does not allow you to customize or tweak the code files, do not use it. It does not matter if you do need to customize or edit any code, you should have the liberty to do so.
If the theme offers stuff such as SEO or security features, don't bother using them. Opt for plugins … they almost always do a better job at that.
Do not use a theme that is not mobile-friendly.
Do not select a premium theme that is not backed by good quality support.
So there you have it! A short list of tips on how to choose a WordPress theme. Feel free to comment if you need help with anything.