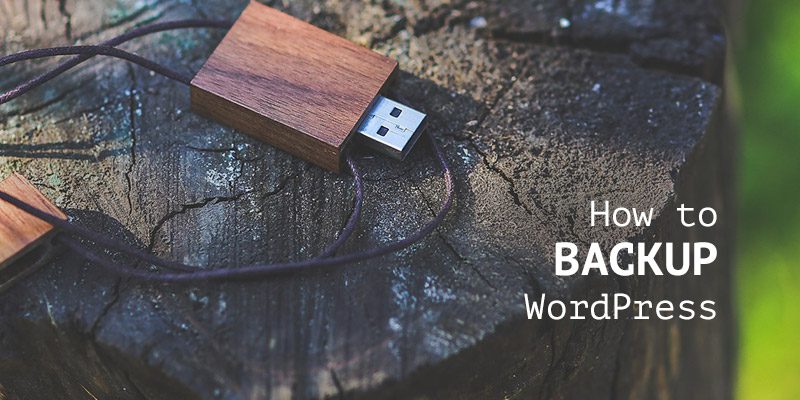 How to Back Up Your WordPress Website
Why back up your WordPress website? Website security today is a huge industry involving millions. From firewall solutions to active scanning there is a lot to learn and a lot to apply. One of the best security measures you can take however is the humble backup.
WordPress backups allow you to restore your website to a point in time when all was well. Thus, they protect you not just from security related problems like hackers but also from hardware failures and other ailments. In this article, I'll show you how to back up your WordPress website with a number of tools.
What do you need to back up?
A WordPress website consists of three large sections:
The WordPress core
The wp-content folder containing themes, plugins and uploads
Your database
The most important one is your database. This contains all your posts, pages, categories, users: any data that you have entered into the admin. The second most important thing is your uploads folder, which contains all the images and other files you've uploaded.
Themes and plugins could go either way. If you use unmodified themes and plugins you can just re-download them later. If you have customized products in there they become a lot more important because they are harder to replace.
Finally, the WordPress code is not important since that is publicly available at any time via a simple download.
In an ideal scenario, I would recommend backing up your full WordPress database and your full wp-content folder just to be safe. This way you'll have everything you need to restore your complete website easily.
Backup solutions for WordPress
There are three larger groups of WordPress backup options which we'll take a look at. You can use WordPress plugins, third party off-site solutions or your host's built in backup system (if any):
1. Backing up using WordPress plugins
There are a number of backup plugins available for free or for a small fee. One of the most well known ones is BackWpup. The plugin is able to back up your whole database and your files, and store them on the server or in a third party storage location like Dropbox, or Amazon: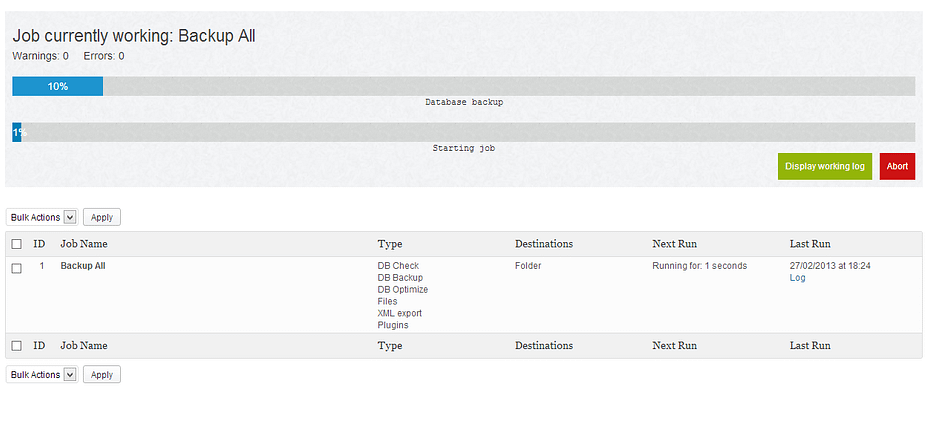 Remember that a backup isn't really a backup if it is on the same server as the original. I recommend always storing backups elsewhere to make sure you can restore in any situation.
The upside of using a plugin like BackWpup is that it is free. You get peace of mind and a restoration points for nothing, which is pretty good. The downside is that they are usually more wasteful than some other options and restoration may require a developer if things go south – although this applies to almost any backup method.
Anoher WordPress backup solution to check out is BackUpWordPress.
2. Third party off-site solutions
The clear leader in this group is Jetpack/VaultPress, which is made by the same company that develops much of the WordPress core. It has a number of great features, best of which is the complete set & forget nature of the product. It ticks away in the background automatically but when you need it you can restore with a few simple clicks.
Note. After recent changes to the business model, VaultPress features are now available via the Jetpack plugin subscription. You get all the essentials for $3.50 / month.
VaultPress/Jetpack is an off-site system which means that it may be able to restore your site if it is completely inaccessible as well. On top of all that it includes security scanning and notifications and basic website statistics as well.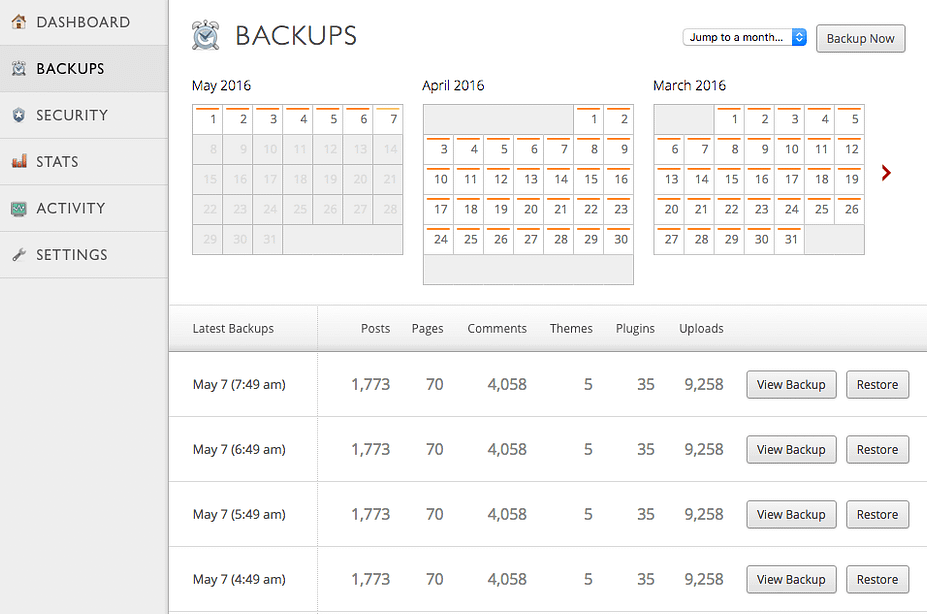 If you're looking for alternatives, BackupBuddy and BlogVault are good ways to go. BackupBuddy is made by iThemes who have plenty of WordPress experience and offers similar feature to VaultPress/Jetpack.
I would personally go with VaultPress/Jetpack because of the way it handles backups (lower server load and more integration points) and the ease of use and pricing factors. If you have a large number of sites you may be better served by BackupBuddy though, make sure to weigh the cost and benefits.
The upside of using a third-party off-site product is ease of use, additional security, a better user experience and high-level features. The downside is price. VaultPress/Jetpack will set you back a minimum of $42/year, BuddyPress a minimum of $80/year. That said, I would recommend using these plugins over free alternatives. $42/year is a low-low price to pay for the complete backups they produce, especially if your website makes you money.Note. For more info, check out the latest comparison of the top backup solutions for WordPress over at CodeinWP: VaultPress vs BlogVault vs BackupBuddy vs CodeGuard vs UpdraftPlus
3. Host's built-in backups for your WordPress site
Many hosts have a backup system included in your plan, especially higher end or managed WordPress hosts. If you're with a company like WPEngine, Flywheel or Kinsta, you should ask them how their backups work.
I've worked with Flywheel before, I know they have a particularly nice looking backup solution: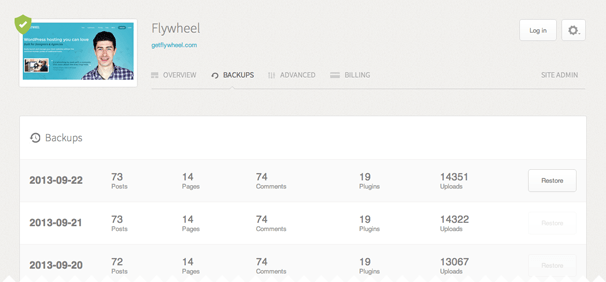 Managed WordPress hosts work with WordPress on the server level, their backups are usually much more efficient than anything else you could use. If you use a generic host, you might still be able to use their backup systems, talk to your host and ask them how it's done.
The perfect WordPress backup solution
So which solution is the best? I would personally use a managed WordPress host to get automated backups and also use VaultPress/Jetpack to back up my site. This provides enough redundancy to be completely safe no matter what.
If you are on a budget, however, the free backup tools offered by plugins are great. They get you 95% of the way to a perfect solution which is just fine. Once your site starts making money you can always switch to a premium solution.
If you have worked with other awesome WordPress backup products or methods before, let us know in the comments below!